The procedure to initialize the radio transmitter in the key and the receiving module in your BMW. In simple words, what you need to do to "prescribe" the key in your BMW X5 E53 and E36, E34, E46, E39
If you changed the battery in the key or if you need to prescribe a key for some other reason, there are two ways to do it without using specialists and a service center.
How to register a new key if you already have a prescribed one.
Open central locking with the prescribed key.
Get into the BMW with both keys and close all doors, windows, and the sunroof, if any.
Move the tethered key to ignition position 1 for a short time and then turn it off again. The switch-on time should be less than 5 seconds, only then is the system ready for initialization.
On the new key to be tethered, press and hold button 2.
Press button 1 three times (within 10 seconds). Keep button 2 pressed.
Release button 2.
The automatic central locking control system signals with a "lock" and an immediately following "unlock" that the new key has been successfully initialized.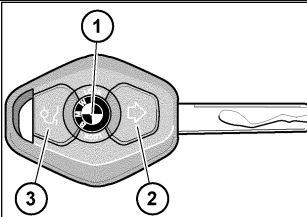 If the system gives no confirmation (the locks do not close and do not open themselves immediately), the binding procedure must be repeated.
After completion of the first initialization process, three additional radio transmitters (keys) can be initialized.
For each subsequent radio transmitter the sequence from point 4 must be repeated at the latest after 30 seconds, because otherwise the readiness for initialization will be switched off.
During initialization, all existing radio transmitters must be initialized. The ignition switch must never be switched on again during the initialization process. If this happens, all keys assigned to the vehicle must be re-bonded.
How to tether the key in a BMW if there is no prescribed key
Insert the key into the ignition switch and quickly turn it to position 1 and back. Do this 5 times.
Remove key from the ignition.
Press and hold down the "Unlock" button (button 2 in the illustration above) and press the "Close" button (button 1 in the illustration above) 3 times. Release the "Unlock" button.
If you have another unprogrammed key, repeat step 3 for 30 seconds.
Insert the key into the lock and turn on the ignition.
The procedure described above helps you bind the key in BMW 3 Series with E36 and E46 body codes, in BMW 5 Series E34 and E39, in 7 Series E38, and first-generation X5 E53.