There have been 5 generations of Subaru Impreza from 1992 to the present day.
From 1992 to the present day, there have been five generations of the Subaru Impreza. These compact cars were produced in hatchback, station wagon, sedan and coupe bodies. Some models were used in different countries as police cars. Subaru Impreza WRX range was launched in parallel with the basic model, and in 1994, an improved version WRX STi was presented. WRX and WRX STi are all-wheel drive sports cars, which were equipped with more powerful turbocharged engines.
Types and characteristics of Subaru Impreza engines
All engines installed on the Subaru Impreza were four-cylinder, four-stroke, horizontal opposed (H4), mostly gasoline engines. Opposite is an engine with a 180° angle between the cylinders. Until 2006, only EJ-series engines were used, then the EJ15 was replaced by the EL15 Subaru Impreza engine. Since 2012, the Subaru Impreza is equipped with FB engines. EJ engines up to 2 liters were produced with only one camshaft (SOHC), EJ20 and EJ25 were also models with two camshafts (DOHC). All were 16-valve, which means four valves per cylinder, and some were turbocharged. Subaru Impreza WRX and WRX STi were equipped with turbocharged EJ engines:
2L – different modifications of EJ20T – EJ20G, EJ20K, EJ205;
2.5 liters – EJ255 (only for the U.S. market) and EJ277.
EL15 is the only engine in the EL range. Its distinctive features – the presence of two camshafts and active valve control system AVCS. The same system is used in the FB series. It includes DOHC engines with increased stroke and reduced diameter of the cylinder (in the FB16 model stroke 82mm diameter 78.8mm, in the FB20 model stroke 90mm diameter 84mm). This makes the engines more environmentally friendly and fuel efficient.
EL15 engine has more power at a small volume than its predecessor EJ15.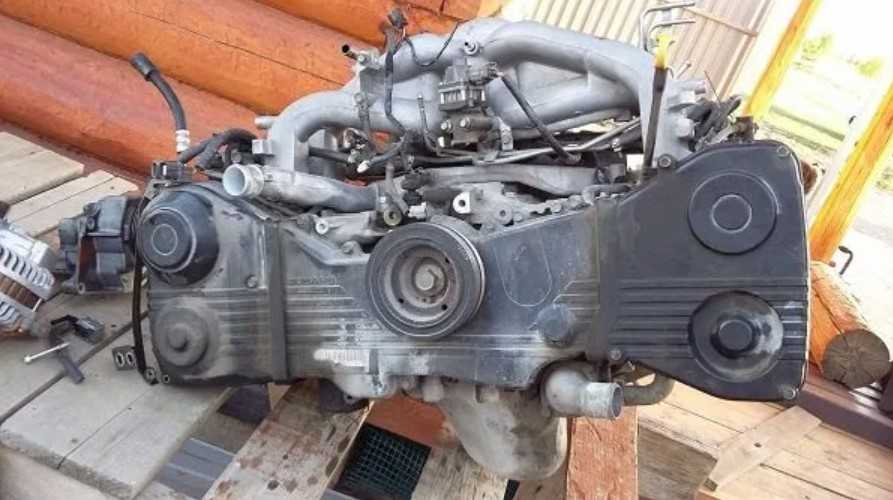 AVCS is an efficient variable valve timing technology developed by Subaru. The system controls intake valves and adjusts camshaft positions based on data received from a number of sensors. The intake camshaft can be angled up to 35° in the desired direction, depending on the oil pressure, which is controlled by the control valve. At low load and idle, the valves are delayed in opening; the higher the load, the earlier the intake valves open and close. The result is more engine power for the same amount of fuel and lower emissions.
Subaru Impreza gasoline engine specifications
| | | | | | | |
| --- | --- | --- | --- | --- | --- | --- |
| Model | Volume l | Power, l. With. | Number of camshafts | injection system | Peculiarities | Application |
| EJ15 | 1.5 | 96–101 | SOHC | multipoint | | GC1 series up to 2006 |
| EJ16 | 1.6 | 89–97 | SOHC | multipoint | | 1993–2007, GC4 |
| EJ18 | 1.8 | 108–118 | SOHC | carburetor with port injection or single injection | | 1993–99, GC6 |
| EJ20 | 2 | 115–190 | SOHC/DOHC | | naturally aspirated model EJ204 with AVCS | 1993–99,GC–GF с 2004 GH–GE 2007–11 GE-GH |
| EJ20T | 2 | 220–280 | | | turbocharging, intercooler | WRX, WRX STI |
| EJ22 | 2.2 | 135–142 | SOHC | multipoint | | 1995–2001 |
| EJ22G | 2.2 | 276 | DOHC | | turbocharging | STi GC8 |
| EJ25 | 2.5 | 155–305 | SOHC DOHC | electronically controlled | turbocharged / non-turbocharged | Since 1998 |
| EL15 | 1.5 | 110 | DOHC | | stroke | С 2006 GD, GG, GE, GH |
| FB16 | 1.6 | 113 | DOHC | | stroke | Since 2012 |
| FB20 | 2 | 146–150 | DOHC | | stroke | Since 2012 |
The only Subaru Impreza diesel engine is the EE20, a 2 liter, 147 hp, DOHC engine, installed on 3rd generation models. This is the first experience in the history of the use of the opposition diesel engine in passenger cars. The minimum volume of Subaru Impreza engines is 1.5 liters, the maximum – 2.5 liters. The most powerful among them is EJ257 engine (305 hp), which was used for Impreza WRX STI MY08-MY17 for the US market.
Service Life and Breakdown Causes
Subaru's horizontal-opposite engines are commonly referred to as "boxers" because of the specific movement of the pistons, they resemble the movements of the hands of rival boxers. The advantages of these internal combustion engines include high durability, good balance, minimal vibration during operation, life reaching a million kilometers. In practice Subaru Impreza engines serve 250 000 km and more without overhaul. On the forums you can find reviews of car owners who have changed only cylinder-head cover gaskets for more than 300k km run.
The Subaru Opposite Engine – the Boxer, which is not easy to knock down
True, it does not apply to turbocharged engines, which are designed specifically for sports cars. All modifications of EJ20T engines are subjected to intensive loads and often need to be rebuilt already after 100-150 thousand km run, and sometimes even major repairs do not help, the unit is simply not subject to restoration. The most reliable engines are the ones up to 2 liters – EJ15, EJ16, EJ18. But Subaru Impreza with 2.0 engines are more popular because they are more powerful. The resource of the FB-series engines, according to Subaru engineers, is increased by 30% compared to the previous generation. The main drawback of Subaru EJ and EL engines is the design-related complexity of maintenance. The FB line models have simplified access to the engine for maintenance, and the timing chain has become maintenance-free.
Subaru Impreza engines, like any gasoline engines, suffer due to the use of low-quality gasoline and oil, untimely oil changes, aggressive driving, and operation at maximum crankshaft speeds. The inner surface of the cylinders is subject to chemical corrosion, which may be caused by high sulfur content in gasoline, and mechanical abrasive wear (abrasive inclusions contain carbon deposits). As a result of these processes, piston rings wear out faster and oil consumption increases. If low viscosity oil is used, pistons get jammed, too high viscosity leads to oil starvation. Engines require warming up, especially in winter.
For engines with less than 2 liters of capacity it is recommended to use 92 gasoline, and for engines with 2 liters and more 95-98. Oil should be selected according to the seasonal recommendations, the optimal frequency of oil replacement – 7.5 thousand km. A full replacement requires 4 to 5 liters of engine oil, depending on the engine modification. Another measure that can extend the life of the engine is to install an additional crankcase protection from below.
On Russian roads, the risk of crankcase puncture or deformation when hitting an obstacle is quite high, in addition, the engine gets a fair amount of dirt. In Subaru Impreza cars OEM engine protection is not always up to the task. If it is damaged, you can buy a contract one. Produce designs for crankcase protection and third-party manufacturers. They are made of steel, alloys, composite materials. They not only protect from adverse mechanical and chemical effects, but also make it difficult for the thieves to access the wiring in the underhood space. When installing additional protection, it is important to properly select it in accordance with the modification of the body.
Different engines have characteristic weaknesses and typical problems:
In different modifications of EJ20 – knock of the 4th cylinder, it occurs due to the imperfection of the cooling system. A short (2-3 minutes) knocking after startup is normal. The knocking on the warmed up car lasting up to 10 minutes is an alarming symptom, indicating the need for an overhaul.
Wear, backlash of valve covers and camshaft seals, leading to oil leaks. If the problem is not eliminated in time, oil pressure drops, all symptoms of oil starvation appear;
In turbocharged versions, deep ring linings that lead to increased oil consumption;
The EJ25 models share many of the weak points of the EJ20, but they have their own drawbacks. Thinner walls of the cylinder with larger diameter are susceptible to overheating, the cylinder head deforms often, and the gaskets are leaking. In EJ257 and EJ255 versions the bearings are often rotated;
In the FB20 the catalytic converter is very vulnerable, sensitive to gasoline quality and oil level. In models manufactured before 2013, cylinder block defects are common, and caked oil rings are responsible for high oil consumption.
Car exploitation with a defective catalyst, defective cooling system, untimely replacement of fuel, air, oil filters and spark plugs has detrimental consequences. The owners, frightened by the myths about the complexity of spark plug replacement in cars with horizontal-opposite engines, often try to postpone this moment. In fact, there is no need to remove or even lift the engine for this procedure, just disconnect a number of parts located on top. The process for the GC8 model with the EJ205 engine is demonstrated in the video below. With old spark plugs, the engine starts to fidget, its dynamics deteriorates, fuel consumption and emissions increase, and eventually the engine fails.
That the engine Subaru Impreza started without any problems, spark plugs are recommended to change after 50 thousand kilometers mileage
Another problem not related to the engine itself – a breakage, displacement of its pillow (support), usually manifested by a noticeable vibration. Replacing the cushions engine Subaru Impreza – a fairly costly event, but you can not neglect it, or subsequent repair of the internal combustion engine will cost even more. You can save money if you can find a contract engine cushion in good condition. There are many models of pads, so before buying it is important to make sure that the part corresponds to your car model.
Subaru Impreza Engine Repair
The first thing Subaru Impreza engines need is to replace the cylinder-head gaskets. But it is better to buy a complete repair kit, which includes valve cover gaskets and bolts to them, pump gaskets, intake and exhaust oil caps. It is cheaper than buying the consumables separately, and all these elements need to be replaced quite often. It is desirable to buy at once tension and bypass rollers for timing belt, bolts of cylinder block and cylinder head. Main and crank pins wear out rather intensively, it is better to change them during engine disassembly for preventive purposes, even if their condition is satisfactory. You must not economize on consumables, it is obligatory to use original ones. Caked oil rings for the first time you can try to decarbonize, extract, clean and install again, but this is a temporary measure, it is better to replace them immediately.
What other parts need to be replaced will become clear during engine disassembly. Camshaft and crankshaft journals and pistons need to be measured with a micrometer to determine the degree of wear. Quite extensive and expensive repairs may be needed:
replacement of the oil and water pump;
timing belt replacement;
crankshaft replacement. You can try to resort to grinding, it eliminates scuffing, but does not help with bending the axis of rotation. In addition, the crankshaft may have internal cracks, which are not visible, but will make themselves felt after repair;
repair of connecting rod and piston group – replacement of severely worn pistons, deformed connecting rods;
cylinder-head repair. Replacement of this block in most cases is not required, it is enough to grind the plane, adjust the valves, replacement of scraper caps;
Boring of the cylinder block (it is not always possible to find a specialist who can perform this procedure).
Subaru Impreza engines (with the exception of those installed on WRX and WRX STi sports cars) are highly repairable. But there are situations when, due to extremely careless operation or after an accident, the engine cannot be repaired. If you need to replace the crankshaft or cylinder block, the repair work, taking into account the cost of new units will cost too much, it is more cost-effective to replace the entire engine. But not everyone can afford to buy a Subaru Impreza engine if it is a new unit, since it is one of the most expensive units. But a contract engine for Subaru Impreza GG3 EJ15 will cost; not more expensive than an overhaul.
The cost of a contract unit varies widely enough, it is the engine model, the mileage of an autodonor and the condition of the engine that matters. Sometimes the goods come to the buyer, passing through a chain of intermediaries, which also affects the price. JapZap procures all the parts at auctions in Japan, and the prices are affordable due to high turnover and lack of intermediaries. Moreover, here you can purchase Japanese contract engines with no Russian mileage warranty. Much has been said about how the quality of gasoline, oil, roads, and the manner of driving affect the condition of the engine. Engines from Japanese scrap yards are superior to engines removed from cars which were used in Russia or USA.