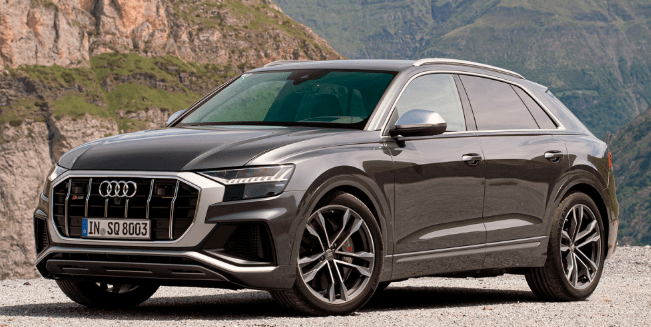 Usually, the charged versions of Audi even differ from the basic models externally. But in this case, the premium brand has changed traditions – the most powerful crossover in the family can be easily confused with its forerunner. Well, it is even worse for a confused person: the automobile is capable to show off even sports cars. Only the most attentive of confused rivals could notice the laconic Audi SQ 8 label on the car swiftly leaving in the distance.
Exterior and interior
Why the look of SQ 8 almost does not differ from the standard 8 is hard to say. Whether Germans didn't want to improve the perfect one or decided to make a joke over hapless racers. Anyway, the flagship crossover is similar to the S-Line version in many respects, external differences are reduced to vertical inserts of a radiator grille and LED stitching on a trunk door connecting rear lamps. The lower edges of both bumpers are reinforced with a metal protective strip.
Model parameters:
dimensions (L x W x H) – 5006 x 1995 x 1708 mm;
wheelbase – 2996 mm;
ground clearance – 254 mm;
curb weight – 2340 kg;
The trunk – 605 liters.
Certainly, inside everything is first-rate. Leather interior with inserts from carbon and aluminum, luxurious armchairs with a full set of adjustments, and an exhaustive set of electronic assists – from keyless entry to control of driver's fatigue.
Four-zone climate control, heated seats, windows, mirrors, panoramic sunroof, and premium audio system with 17 speakers are responsible for comfort. Three touch screens with voice control, a laconic central tunnel with a compact gear knob and a choice of driving modes, a leather sports multi cool. The main pleasure here is in driving.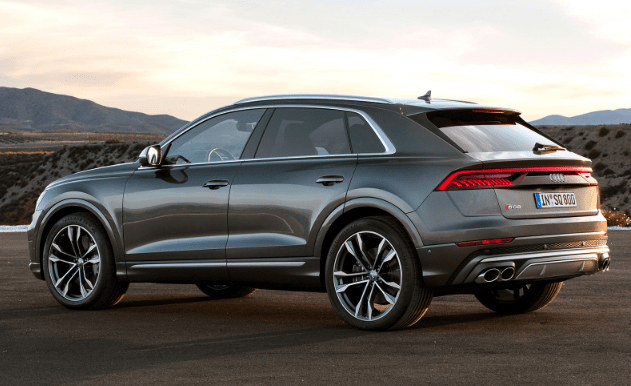 Technical data
No more compromises – the crossover is equipped with a single twin-turbocharged 4-liter diesel engine with all-wheel drive and 8-speed automatic transmission. The characteristics are impressive:
engine power – 422 hp;
Acceleration time from 0 to 100 km/h – 4.8 s;
Top speed – 250 km/h;
Fuel consumption – 8.4 l/100 km.
But the implementation of technical solutions impresses even more. Actually, there are three turbines here – an additional electrical supercharger provides instant response to gas pedal pedals. Adaptive shock absorbers and taxiing air suspension with stabilizers give faultless steerability – the large car with high clearance behaves like a sports sedan.
A reverence for environmentalists is the 48-volt entry-level hybrid. Traction battery allows 40 seconds of driving at speeds up to 160 km/h and provides the system "start-stop", turning off the engine even before stopping the car. Hence the unexpectedly modest fuel consumption. By the way, two out of four exhaust pipes are decorative, they are connected to the electronic system of sound imitation. Thus, it is possible to adjust tonality and volume of work of the engine without any tuning-atelier.
The car has one configuration and its price starts from 8 000 000 rubles. If you wish it is possible to give individuality to the vehicle with a package of options, though base equipment is more than impressive.
Conclusion: comfortable, spacious, ideally steerable sports crossover with almost infinite power reserve under a gas pedal – the triumph of mighty diesel engines. And it can also become their swan song: Audi brand has just announced scrapping work on internal combustion engines and transition to the development of hybrid and electric motors. And this means that now is the right time to subdue such power, because there may be no other chance.