Namyang is a lot of tracks and sites, hangars, laboratories, and technical centers. And at the parking lots of reference cars, you can see anything you like: from Japanese key cars to full-size American pickups and minivans. The Toyota Prius is also here: this most mass hybrid in the world never fails the Korean engineers. In January a direct competitor of Prius was presented – a medium-sized liftback Hyundai Ioniq with the petrol-electric propulsion system. And Kia has prepared the Niro crossover based on the same units.
And this is just the tip of an iceberg, a part of the "green" plan of Koreans, who are sure that by 2050 in the world will become tight with oil: they say there are unlimited reserves. And penalization for average model range CO2 emissions in America and Europe already exists now – and in order not to spend money on fines, Hyundai-Kia hopes to reduce this figure by 25% by 2020. They're willing to spend over ten billion dollars to do so and over the next five years instead of the current four hybrids and electric cars (the K7 and Optima hybrids in conventional and rechargeable models and the Soul electric car), Kia will have 11 new "alternative" models under its brand, including fuel cell hydrogen electric cars.
A new generation Kia Optima Hybrid is launched alongside the Niro, available in two versions: normal and rechargeable. Both have a 2.0 GDI gasoline engine (156 hp), electric motor integrated into the transmission (52-68 hp), lithium-polymer battery with a capacity of 1.62 or 9.8 kWh (PHEV), and pure electric mileage of up to 43 km in the rechargeable version.
And a special bet is on the Niro.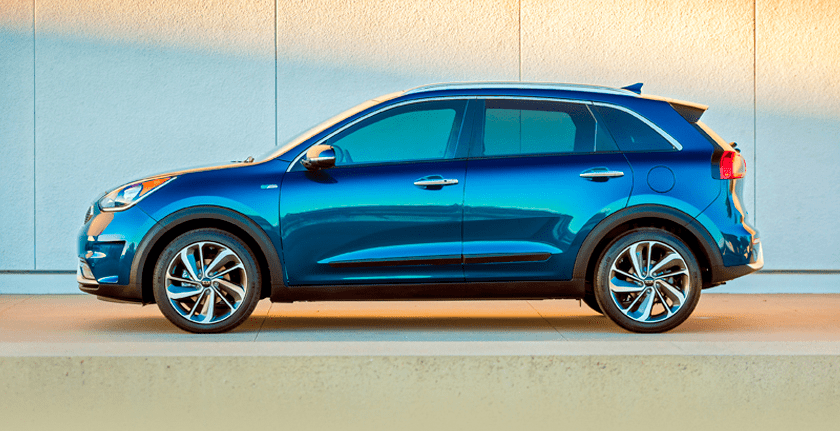 Before me is more likely not a crossover, but a "raised" station wagon with large 18-inch wheels and unpainted plastic sills and wheel arches. By length Niro exceeds cee'd only 45 mm (4355 mm), by width – 20 mm (1800 mm), and the biggest difference, of course, by height: plus 60 mm (1535 mm). By the way, the familiar Soul is 215 mm shorter than Niro.
Going up to the trunk, managed to surprise the rearview camera eye, elegantly inscribed in the lining of the rear wiper blade axis – and with my height, 182 cm do not fit under the open fifth door. The trunk itself is slightly larger than that of the Kia cee'd hatchback: about 400 liters of volume, with a high sill but an impressive underfloor that accommodates a full-sized spare wheel.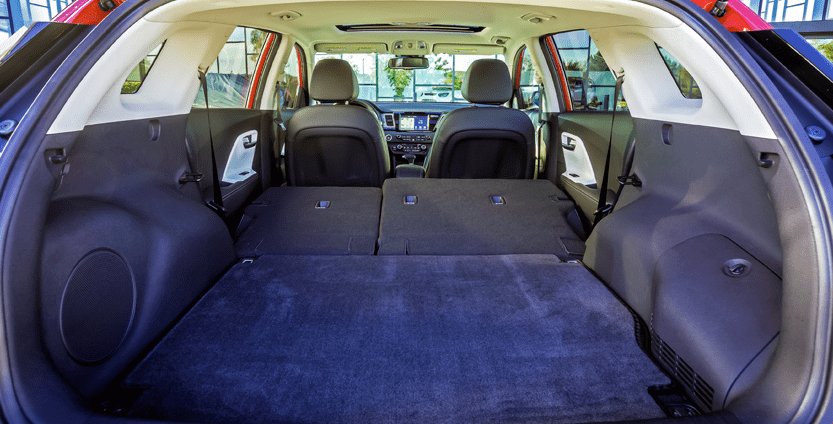 On the front, there is a firm "smile of a tiger" between the headlights (in optics, by the way, there are no newfangled light-emitting diodes). But in general, the appearance, developed jointly by design studios in the U.S. California and Korean Namyang are simple and calm. And in the interior, there is a parking brake pedal. Transocean traditions! They go on in the whole unpretentious interior with flat overlays of the front panel, rustic devices and "logan" notches indoor panels instead of usual handles. At the back, the hardbacks of front seats do not add coziness, but there is enough space for both head and legs: the wheelbase of Niro is 50 mm longer (2700 mm) than the hatchback Kia cee'd. On the back of the front armrest, there are air deflectors, among the equipment promise six airbags (including knee for the driver), the system of emergency auto braking, monitoring of road markings and blind spots, active cruise control, and self-parking. The onboard system with a seven-inch touchscreen is equipped with Android Auto, and there is wireless charging for smartphones under the center console.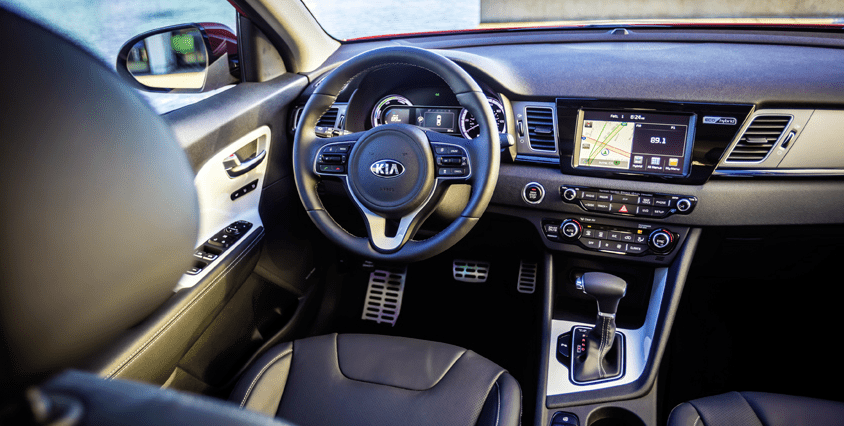 Hyundai Ioniq and Kia Niro are built on the concern's new platform. The body – of course, with expanded use of high-strength steels (in the power structure of the body their share reaches 50%). In front, I saw McPherson struts (only with aluminum, instead of steel arms), and in the back – a multi-leaf bar with spaced vertical shock absorbers and springs.
Niro has a smoother ride than cee'd: it "picks up" less small stuff, and shudders painfully only on really big potholes. Thus, body rolls have not grown, the crossover does not bump in turns. Except that the electric booster, to my taste, works too assiduously, hiding the "feeling of steering".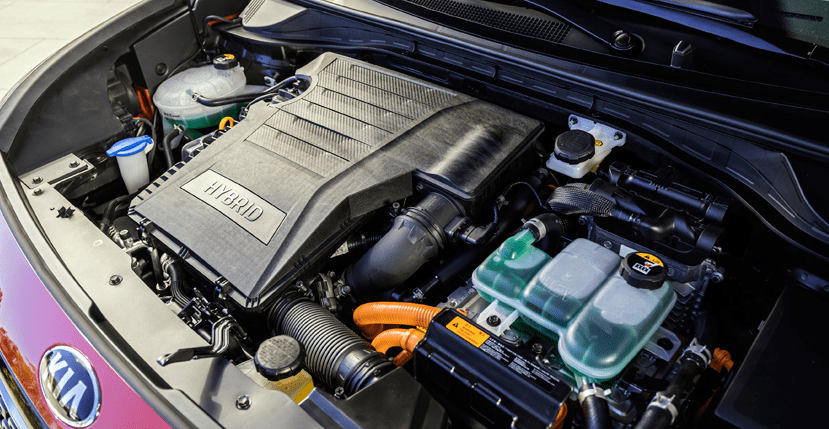 Gasoline engine is a new atmospheric four 1.6 GDI of the Kappa family (103 hp, 147 Nm), capable of running on the economical Atkinson's cycle and has high thermal efficiency of 40% (as in the atmospheric 1.8 in the Prius). Another "hybrid" feature is the electric water pump.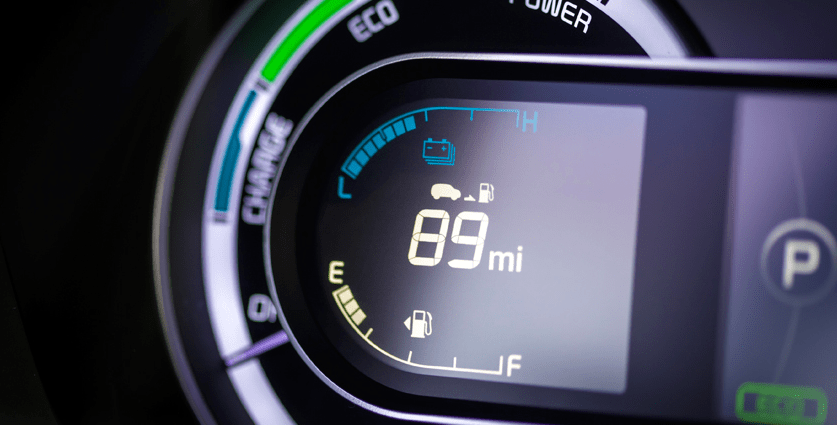 Transmission is without any revelations: modification of usual six-speed preselective "robot" was limited with replacement of a mechanical oil pump with an electric one. But the Koreans rely on the most advanced batteries: not on nickel-metal hydride or lithium-ion, which prefer Toyota and Honda, but on lithium-polymer. These have no liquid electrolyte, so they are safer when they break down and eliminate the possibility of ignition. And the layout engineers are in for a treat: the dry lithium polymer cells can be shaped into almost any shape.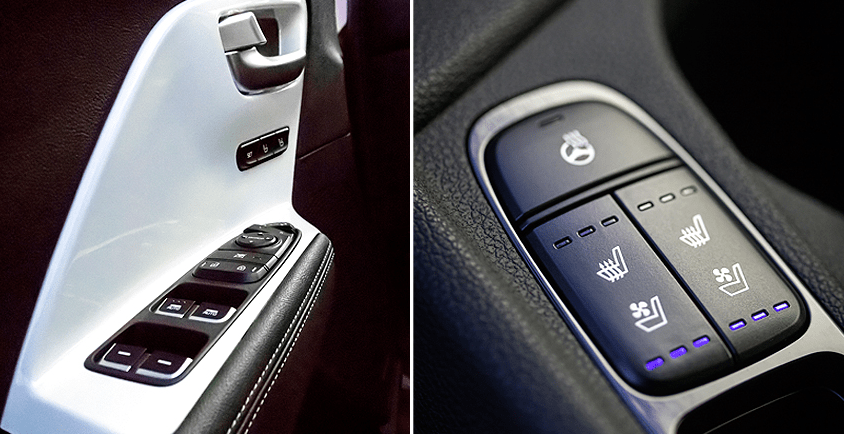 A synchronous 32-kilowatt electric motor is built between the gasoline engine and the gearbox, which is 146 hp in total at my disposal during acceleration. The hybrid crossover is obviously quicker than a hatchback Kia cee'd with a fully charged battery of 1,56 kWh! It is a pity, that it is impossible to switch on a pure electric mode that allows forgetting about the petrol engine for some time – as, for example, Volkswagen Golf GTE is able to do. But it is clear – the electric motor is weak alone: you move off in silence, but it is necessary to press the gas pedal more forcefully – and the atmospheric engine wakes up. The Koreans promise, that it is possible to accelerate up to 100 km/h on electric power. And I, probably, was too impatient and got the average fuel consumption of 8 l/100 km from a short trip – twice more than declared.
The usual hybrid is the first in the family. A little later it will be joined by a version with a higher-capacity battery and the possibility of charging from a household outlet. But… This hybrid story is not for us yet: the Kia Niro will be produced at a plant in Korea's Hwasong and sold in most world markets, including North America, Europe, and Asia.