The spare tire is a good helper when the car tire is damaged, but most of these spare tires are not designed for permanent use as the main wheel. You should know why you can't drive a full-size spare tire for a long time, and what is a car spare tire?
Not all spare tires are the same and very often a vehicle is factory-installed with a much smaller diameter spare than the vehicle's main wheels. Temporary car spare wheels most often do not have long-term use as the main wheel. Unlike a regular tire, a spare wheel uses rubber with one layer of polyester on its sides and only two strips of steel, with a layer of such polyester on the tread. Therefore, the spare tire is not intended for permanent use, as this spare tire will quickly deteriorate from the road surface.
As a rule, spare wheels in cars are much lighter than other traditional wheels. This is done so that any of the drivers would almost easily be able to put such a spare wheel on its own in case of damage to the main wheel, as well as not to add unnecessary weight to the car. The diameter spare wheel is not a large size and it is to save space and for easy storage in the car.
However, due to their small diameter and reduced weight, these spare wheels suffer from poor durability and unreliability, unlike conventional wheels whose main criterion is safety.
How fast can you go on a spare tire?
Most factory spare wheels have a specific speed limit, which is mostly no more than 90 km/h. But there are also higher-speed spare wheels that can run up to 110 km/hour. This speed is quite enough when the car has a puncture and the tire of the main wheel is damaged, in this case, you can quickly get to the nearest tire fitting shop or an auto repair shop on the spare tire.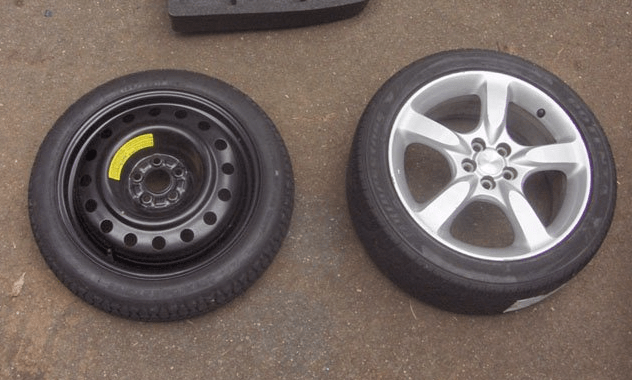 Note that some automakers complete their cars with full and full-size spare tires, although these spare tires take up a lot of space and are much heavier than those smaller wheels, they are durable and reliable. These spare wheels will serve the owner of the car for a long time. In particular, these similar spare tires look exactly the same as the basic wheels which the car is equipped with, which allow a long time and quietly ride on them.
But not everything is as simple as it seems at first glance. Some spare wheels are almost no difference in appearance and reliability, to use them for a long time is still not recommended. Thus, unlike traditional wheels, this kind of spare wheel may have a completely different tread or a completely different rubber compound may be used in the manufacture, and this may affect the controllability of the car and safety on the road. Despite its durability and seemingly the same appearance as the main wheels, such spare is designed for exactly what you can get to the tire store or tire fitting shop located at a fairly decent distance from you.
If your car does not have a spare tire at all, then we advise your friends to buy a spare tire and put it in the trunk of the car. But there are cars that do not originally have a spare tire. It is especially actual in automobiles of compact size. But some automakers have tried and have provided for such cars a way out in case of a puncture of the main tire. For example, BMW 1-series cars and MINI cars do not have spare tires. Instead, they use Run-Flat tires, which when the main wheel (tire) is punctured or damaged on the road, does not allow the pressure in these tires to be reduced, allowing drivers to get to a car service or nearest tire fitting shop to fix this damage without replacing the damaged tire. As a rule of thumb, such tires can be driven up to 80 kilometers after they are damaged.
But apart from the convenience, these tires have some difficulties. Compared with traditional rubber, these Run-Flat tires are not recommended to be repaired at regular tire shops, since a full repair of a damaged wheel in such places is not possible in principle.
Let's summarize. What we have established:
If your car has a flat tire, in this case you should replace it with a spare. Remember, a spare tire is not meant for long-term use. Even a full-size spare tire that looks just like regular car wheels may not be safe because of a different rubber compound or a different tread, and once installed, it can lead to subsequent problems on the road.
Remember always that the tire rubber on your car is the only part in the car that gives and makes its grip on the road surface stable and reliable. Don't speculate on your safety and the safety of other road users. Good luck to you friends!